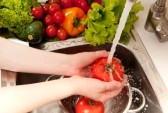 Do you love CASE STUDIES as much as I do? I find they help to show examples of traits that we want to build in our children (Building Grit), but sometimes have difficulty doing.  The habit of building grit is one that many parents I've talked to struggle with.  Here's a truncated version of one of my favorite case studies from The Learning Habit about building grit through routines.  It shows how the simple act of preparing dinner can be used as a tool to build character grit in a child.
CASE STUDY: Building Grit Through Routines
In Jenna's house, you'll notice that her children all have a lot of responsibility. With six children crammed into a small house, you trip if someone leaves their stuff out. "Stuff" equals sports equipment. The family is not poor, but they are not wealthy, either.
They chose to live in a smaller house with fewer "things" because it was in a better school district. There is a rotating schedule detailing which child makes dinner, cleans, and so on. By the age of four—yes, four—her children were expected to make dinner for the family.
Many parents can't imagine letting a four-year-old near the stove. Jenna's children were capable of preparing simple meals; they could read and understand measurements by the age of four.
"People are horrified by that story, like it was child abuse or something. I just shake my head. Please. You want your children to be more independent and less whiney, have more children!" Jenna laughs.*
Reprinted from The Learning Habit by Stephanie Donaldson-Pressman, Rebecca Jackson, and Dr. Robert Pressman by arrangement with Perigee, a member of Penguin Group (USA) LLC, a Penguin Random House Company, Copyright © 2014 by Good Parent, Inc.
Jenna's story does give us pause.  It seems almost counter-intuitive, but she has done a terrific job building grit in her children.  The "oven" scenario might not be for everyone, but by the age of 5 most children could make a sandwich.  How often do we actually require them to do this, to prepare dinner to feed the family?  Resource constraint can provide powerful motivation to build grit.  After interviewing hundreds of parents, children and educators, I've discovered that gritty kids have a lot more in common.
The Grit List
Clear sense of who they are as people

Clear priorities

Strong sense of work ethic

Prioritize personal goals

Not swayed by peer pressure

They trust themselves
I write much more about building grit in The Learning Habit, coming September 2, 2014 about educational and parenting approaches that help children succeed. With two children of my own, I have to admit I find this one of the most interesting subjects of all time. My favorite chapter in the book which deals with grit is Fun Family Challenges. Click below to try one!

I enjoy reading books that encourage us to change our habits. However, I often struggle when it comes to implementing small, incremental changes into the fabric of my life. What I like about Fun Family Challenges is that they are in the form of a game. Children learn through play. All the challenges were designed for readers like me who are motivated to change, but don't really know where to start.
Don't wait until the last minute, preorder your copy.
Do you have anything you'd like to add to "The Grit List"? Please add it in the comments below.
If You Have Time…
I highly recommend taking a virtual tour of the Duckworth Lab. Dr. Angela Duckworth is a pioneer in the field of psychology and provides valuable research on the topic of Grit.
TAKE
her 12-item Grit Test and learn if you've got this valuable charter trait.
READ
this Boston Globe article on The Learning Habit Study with Dr. Robert M. Pressman which discusses the negative correlation between the amount of screen time and grades.
SIGN UP
for the Good Parent, Inc. Newsletter.
•